OUR HISTORY
Steve and Paula Kenning are two former principals with over 21 years of experience leading their own schools.
In 2011, they launched the Aspirations Academies Trust and since then, we have transformed learning in 16 academy schools In southern England.
We educate over 9,000 young people from ages 2 to 18.
OUR VISION
As a Trust we have developed very good systems and structures for turning poorly performing schools into good or outstanding schools. However, the desire has always been to move away from the 'traditional' knowledge based, single subject approach to learning towards a provision that delivers 21st century skills, challenging and engaging learning and high level qualifications. 
"We aim to provide each individual student with the keys to a successful life and also give them the opportunity to compete on the global stage." – Steve and Paula Kenning
Ever since our inception, our mission has been to deliver authentic, quality education to children in an efficient and interactive way, that will enable them to develop the necessary skills for career success in the 21st century. We aim to ensure all students achieve high levels of success in a broad range of SATs, GCSE and A Level examinations, whilst at the same time equipping them with the skills required to play an active and successful role in today's highly competitive, fast-changing world.
As the future world of work landscape is being reshaped by six drivers of change, working independently or together, we want to equip pupils with all the future skills they need to make sure they thrive in the new work environment and achieve career excellency.
To find out more, download in full here: Our Vision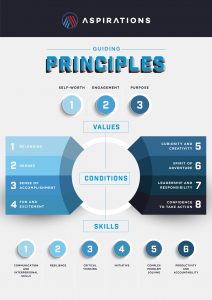 Aspirations Academies aim to provide each individual student with the keys to a successful life, as well as to give them a distinct advantage over other young people. By the time they finish their education at the age of 18 each student at an Aspirations Academy is expected to have:
Achieved their personal best possible qualifications
Developed skills for the relevant to success in today's world
Have high aspirations: High levels of Self-Worth with the belief that they have the ability to achieve academically, personally and socially. Engagement in their learning, showing enthusiasm, as well as a desire to learn new things and a willingness to take positive, healthy steps towards their future. A real Sense of Purpose with clear goals and the ability and drive to achieve them.
Possess the desire and attributes to be good citizens.