OUR VISION & WHY IT WORKS 
The Aspirations Academies Trust began dramatically improving life chances for children in 2012. The core values that underpin the Trust's educational provision are based on the student aspirations work of Dr. Russell J. Quaglia. The Aspirations Framework comprises of the '3 Guiding Principles' and '8 Conditions That Make A Difference'. They provide the trust with an identity and a simple, highly effective set of transformational values and beliefs.
THE VISION OF THE TRUST
Aspirations Academies share a powerful common vision, common values and a common purpose. Each academy operates as an individual school, serving the local area, meeting the needs of its pupils and reflecting the leadership style of the principal. 
Our vision is: "To empower future generations to follow their dreams and to build a society of which we can all be proud."
Our purpose is: "To reinvent education for the 21st century. To use technology and modern pedagogies to give children from 2 to 18 the knowledge, skills and mindsets to achieve excellence in a fast-changing world. At Aspirations Academies, we provide a challenging, engaging and supportive environment to bring out the best in every child."
To find out more, the Aspirations Vision leaflet can be accessed HERE
GUIDING PRINCIPLES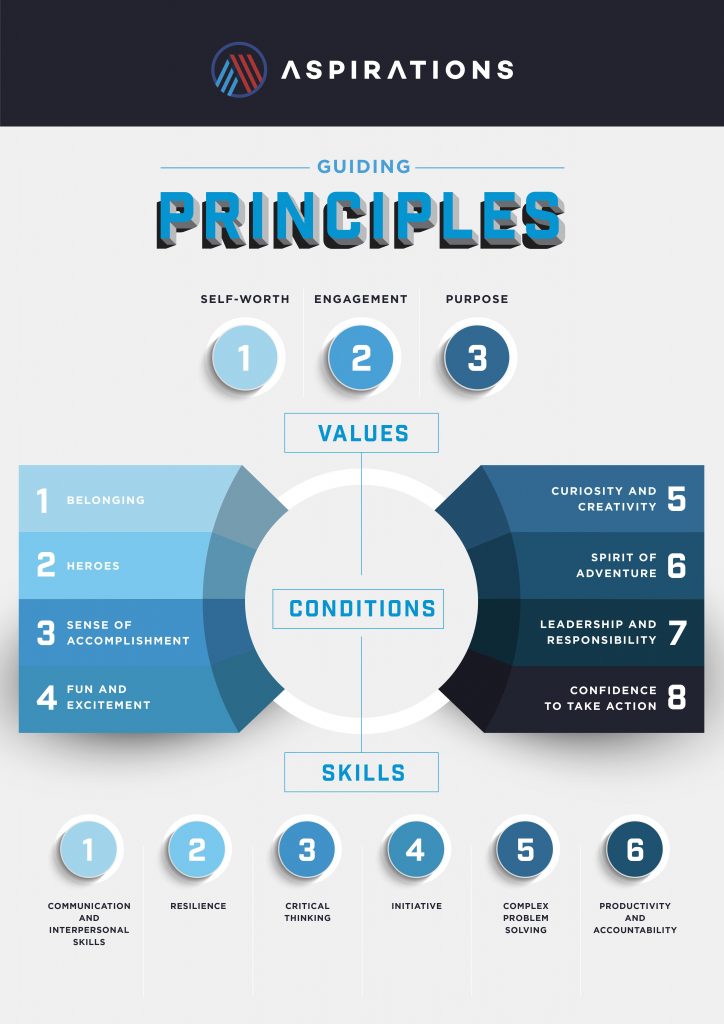 Aspirations has an impressive track record of rapidly improving schools to a judgement of 'Good' or 'Outstanding'. Our academies combine traditional qualifications such as GCSEs and A-Levels with a curriculum rich in power skills such as problem-solving, collaboration, critical thinking and creativity. We pride ourselves in helping students to become happy, successful, resilient and equipped for success in this fast-changing world. 
"We aim to provide each individual student with the keys to a successful life and also give them the opportunity to compete on the global stage." – Steve & Paula Kenning, CEOs of Aspirations Academies Trust. 
Looking to the future, Aspirations aims to add to the current 9,000 students receiving our high quality education, whilst at the same time modernising education through the development of the power skills required to solve problems, think critically and act creatively. 
Through the Aspirations Learning Institute, Aspirations provides professional growth for educators, provides training and materials for organisations and opportunities for training for the wider community.